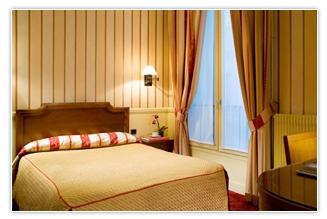 du Theatre Hotel Paris
Fascinating hotel in the heart of Paris at a few minutes from the main monuments of the city, its most celebrated museums, restaurants and entertainment areas, immersed in the business district and near the stations that will lead you to the congress centre, the Hotel du Théatre is your heaven of peace in the city.

Even if the hotel lies in a central situation close to Montmartre, Opera, Department Stores, the hotel offers relaxation, calm and tranquillity, perfect for those who come to the city both for business or pleasure trips.
The structure offers every kind of service, like: Wi-Fi, rooms provided with every comfort and staff at your complete disposal, in order to give you useful suggestion during your stay.

Inside a splendid palace of the beginning of the century, where the celebrated André Breton, founder of the French surrealism lived one year, you can find tranquil and softened ambiences, which after the chaos of a busy working day or a day spent among visits or shopping in the city are the ideal places.
The hotel has the same name of the famous Hébertot Theatre, which lies in front of our structure.
This 3-star hotel characterized by a typical Parisian charm offers Wi-Fi for your comfort, as well as fully sound proofed rooms provided with air conditioning and every possible comfort.